Grazia Up Skin Brightening Cream 30g | No More Dark Neck, Eye Circles, Elbow, Knee, Underarms

Most Recommended Cream by Dermatologist 

Clean your Dark Patch 

All Skin Type can be Use

Quick Results

No Side Effect
Wow Deal Unlock Grab Now !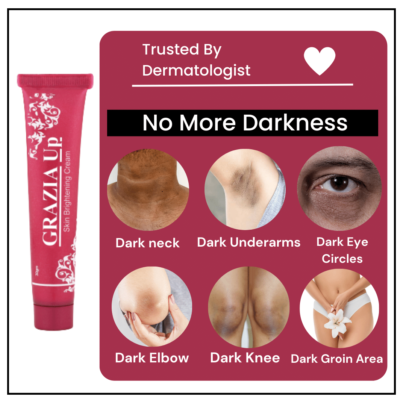 This item:
Grazia Up Skin Brightening Cream 30g | No More Dark Neck, Eye Circles, Elbow, Knee, Underarms
Limited Offer !
Product Description

Grazia up Skin brightening cream is popular among people who want to achieve a brighter, more even skin tone. Here are some potential benefits of using Graziaup skin brightening cream:
Reducing the appearance of dark spots: It may help to fade the appearance of dark spots or hyperpigmentation caused by acne, sun damage, or aging.
Evening out skin tone: This cream can help to even out skin tone and reduce the appearance of blotchiness, giving the skin a more uniform appearance.
Enhancing radiance: Grazia up Skin brightening cream may help to boost the skin's natural radiance, giving it a healthy, youthful glow.
Moisturizing: Grazia up skin brightening cream contain moisturizing ingredients, such as hyaluronic acid, that can help to hydrate and nourish the skin.
Most Recommended Cream By Dermatologist : Clean Dark patches face, Neck, Eye circle, Knee, Elbow, Groin area . Best cream for treatment of Acanthosis Nigricans.
It's important to note that the benefits of Graziaup skin brightening cream can vary depending on the individual skin type. It's always a good idea to do a patch test and consult with a dermatologist before starting any new skincare regimen.
Ingredients : 
Kojic Acid – Reduces melanin formation and prevents oxidative damage
Squalene – Retains moisture and protects external layer of skin
Vitamin E – Penetrates deep into the skin and diminish blemishes
Allantoin – Improve Skin regeneration Arbutin – Natural Skin Whitening agent
Niacinamide – Assists in reduction of uneven pigmentation Alpha
Hydroxy Acid – An exfoliant and stimulates production of collagen and elastin
Disclaimer :
Store in a cool, dry & dark place at temperature below 25°C. Keep out of reach of children. Keep the cap lightly closed after use.
FOR EXTERNAL USE ONLY
| | |
| --- | --- |
| Weight | 0.4 kg |
| Dimensions | 15 × 12 × 12 cm |
| HSN CODE | 33049910 |